Geo-Trips :: Walk beside the Beauly River
Beauly Firth
A walk from Beauly, Tue, 13 Dec 2016 by Julian Paren
The river defences of the River Beauly provide an elevated yet narrow walk along the side of the river. Best done in the winter when vegetation is low - in summer there will be a few inconveniences from lush growth. It is also wise to consult tide tables as the firth is tidal in this stretch of the river, and the higher the water level the less debris - natural and man-made is seen at the water's edge - and the more exciting the prospect is where water floods the saltmarsh. Good after rain.
This is a short walk to a corner of the firth - perhaps what may be thought as the junction of the River Beauly with the Beauly Firth, but in reality one just merges into the other.
This out and back walk is 3.3 miles long and with having to watch your step can take between 1.5 and 2 hours.
On the map below, the grey line is the GPS track from this trip. Click the blue circles to see a photograph taken from that spot and read further information about the location. The blue lines indicate the direction of view. There is also a slideshow of this trip. ( )
↓ Scroll down here ↓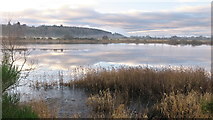 River Beauly downstream of Beauly
The last of the low cloud was lifting and the temperature starting to rise after a... more

River Beauly below Beauly
The river is tidal as it emerges into the Beauly Firth.

Footpath by River Beauly
The path is perched on the top of a bank. There was less vegetation obscuring the... more

View to Beauly along the River Beauly
A path perched on the river bank provides views over the riverside. Many trees... more

Complex water margin beside River Beauly
The adventurous with waders could explore all the narrow fingers of semi-submerged... more

Margin of River Beauly
Even a careful study of the map fails to prepare you for the complexity of the... more

Shoreline of the River Beauly
I am sure only a pedant would argue where the Beauly Firth begins and the River... more

River Beauly from the footpath along its northern bank
Reeds and trees on fingers of land and a swamp that may be transformed at low tide... more

Footpath along the side of the River Beauly
The footpath is perched on the top of the bank.
All images © Julian Paren and available under a Creative Commons licence

.