Geo-Trips :: Shetland (1) - A walk to Ronas Hill
Shetland Mainland
A walk from Collafirth Hill, Fri, 3 Jun 2016 by David Purchase
Ronas Hill is the highest point in the Shetland Islands. It was important for me, as it was my final County Top in the British Isles (including Ireland). It was a glorious day (unlike two days earlier on Ward Hill, Hoy, in the Orkneys) although the wind was strong. The date of this walk was exactly 27 years since I climbed my final Munro.
This was the start of a 15-day visit to the Shetland Islands in June 2016, and the Geo-trips are 'linked'. As well as Ronas Hill, my main objectives were to see Muckle Flugga - see Shetland (2) - and to get Geographs in Myriads HU, HP, HT (Foula) and HZ (Fair Isle). I very nearly failed on HT - see Shetland (13).
Click the blue circles to see a photograph taken from that spot and read further information about the location. The blue lines indicate the direction of view. There is also a slideshow of this trip. ( )
↓ Scroll down here ↓

The summit plateau of Mid Field
A hill probably visited only because it is on the way to Ronas Hill, the highest... more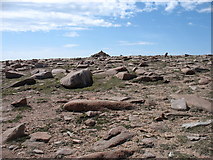 The summit of Ronas Hill
Ronas Hill is the highest mountain in the Shetland Islands. The actual highest... more

Ronas Hill Log Book
A new log book had been donated to Ronas Hill in May 2016. It is kept in a large,... more

Entry in Ronas Hill summit register
I could not resist recording my entry which reports two significant landmarks!

On Roga Field
A minor summit crossed on the way to Ronas Hill.

Ronas Hill notice
The sign shown in [[13928]] has been replaced: no doubt such signs have a fairly... more
All images © David Purchase and available under a Creative Commons licence

.