Geo-Trips :: Belthorn + Oswaldtwistle
Environs of Blackburn
A walk from Belthorn, Mon, 23 Dec 2019 by Chris Heaton
No walk near the eastern side Blackburn would be complete without homage to the Patron Saint of Grumpy Old Men and Proud of It Society - The Grandfather of Fellwalkers. The first two photographs are close to the walk, and concern the birthplace of Alfred Wainwright.
The walk itself began in the village Belthorn. Following the road north west to reach the B6332, the route then crossed the M65 to reach the outskirts of Blakburn in the suburb of Guide. The B6231, Lottice Lane, was taken to recross the M65 and into open country to a footpath slightly beyond 4 Lane Ends. The footpath crosses the B6236 by Duckworth Hall crossing pastures into woodland of stunted appearance.
A track then led into Oswaldtwistle, a community attached to the western edge of Accrington. Passing a large brick mill, now used for other purposes I reached the B6231 for the second time. Walking through Oswaldtwistle, mopping up geographs en route the road steeply climbed away from the town, rounding a dangerous corner to reach a footpath that took me across Duckworth Hill. Walking due south, initially on tarmac and then on an access track to Red Shell Farm. Beyond the farm the way became pretty grim, incredibly wet, muddy with more than its fair share of muck and manure.
It was with some relief when I reached Elton Road. From here upland pastures were crossed high above Pickup Reservoir, before contouring back to Belthorn Village.
Distance 7 miles
Click the blue circles to see a photograph taken from that spot and read further information about the location. The blue lines indicate the direction of view. There is also a slideshow of this trip. ( )
↓ Scroll down here ↓

331, Audley Range
Sharp eyed observers will notice a blue plaque between the front door and ground... more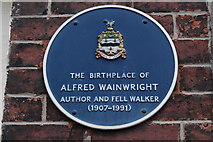 Blue Plaque for A. Wainwright
Birthplace of Alfred Wainwright. Attached to the front edifice of No 331, Audley... more

Vine Mills, Oswaldtwistle
Partially demolished cotton spinning mill dating back from around 1875. Parts of... more

Back Alley in Oswaldtwistle
Leading off Clarence Street, and running behind New Lane in Oswaldtwistle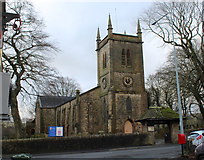 Parish Church of Immanuel, Oswaldtwistle
Large Victorian Church on New Lane, Oswaldtwistle photographed as the clock... more

Oswaldtwistle Immanuel Church Cricket Pavilion

White Bull, Oswaldtwistle
Public House on New Lane in Oswaldtwistle

Trig Point on Duckworth Hill
Surrounded by a personal moat, in the middle of a soggy pasture - this... more

Duckworth Hall
Public house on Duckworth Brow, B6236 - the road between Blackburn and Haslingden

Approaching Walkden Barn Cottages
On a public footpath leading to Duckworth Brow

Red Shell Lane
Seen here running northwards to Red Shell Farm. The bridleway was the consistency... more

Red Shell Farm
Passing through the farmyard on Red Shell Lane

Approaching Whetstone Gate Farm

Crossing an Upland Pasture to Belthorn
A very faint path crosses diagonal over this pasture towards Belthorn on the skyline

Bridleway heading North from Whetstone Gate Farm

A View across the Valley of Tinkler's Brook
Looking eastwards towards the Hyndburn Wind Farm

Pickup Bank Reservoir
Looking south, high up over the reservoir

Access Track leading towards Holme Fold Farm

Holme Fold Farm
Small farm located high above the valley of Waterside Brook

Village of Belthorn
The community clings to Belthorn Road, which climbs on a steady gradient without... more

Access Lane to Higher Springfield Farm
Access lane from Belthorn Road, leading to Higher Springfield and Pulford Farms.... more

Belthorn Road
Approaching the village of Belthorn from the north west

Footpath Leaving Belthorn Road
Start of a very short footpath between Belthorn Road and the B6232, Haslingden Road.

King Edward VII Public House, Guide

Playing Field behind School Lane, Guide

Copster Hill Close, Guide
Small housing development off School Lane in Guide, Blackburn

Lottice Lane
B6231 Blackburn/Haslingden Road outside Collier Row, approaching Four Lane Ends.
All images © Chris Heaton and available under a Creative Commons licence

.