Geo-Trips :: Spey Bay Circular
Moray
A walk from Tugnet, Wed, 10 Nov 2021 by Anne Burgess
After following the route of the Speyide Way from Tugnet to Portgordon, we intended to return by the beach, but were foiled because the tide was too high for us to cross the Burn of Tynet, so we had to detour back to the Speyside Way before crossing the Spey Bay golf course and following the path alongside the beach to return to Tugnet.
Click the blue circles to see a photograph taken from that spot and read further information about the location. The blue lines indicate the direction of view. There is also a slideshow of this trip. ( )
↓ Scroll down here ↓

Spey Bay
The house on the right is Mayfield and on the left is Ard-mhuire.

Speyside Way
This section of the route between Spey Bay and Buckie follows the old Great North... more

Undersea Cable Marker
The lozenge-shaped sign warns ships that there are undersea cables and that they... more

Boats in Portgordon Harbour
Sitting on the mud at low tide. The name of the red boat made us both blink in... more

Community Garden
The garden is partly in the shelter of plastic tunnels.

Community Garden
Most of the garden is sheltered in plastic tunnels. The plant in the right... more

Enzie North Kirk
One of two kirks serving the Presbyterian population of the quoad sacra parish of... more

Portgordon Hall
The hall has the look of a kirk about it, but I have yet to find any indication... more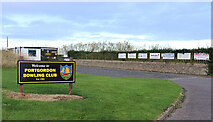 Portgordon Bowling Club
The access to the club house, behind the sign, and the green, hidden by the hedge.

14 Stewart Street ...
... is no more. Compare with [[[6828444]]] and [[[6732324]]], and watch this space.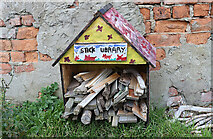 Stick Library
Self-explanatory.


Mouth of the Burn of Tynet
Interestingly, the burn is shown on the map as turning west just here, with an... more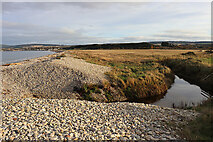 Blocked Burn
The mouth of this nameless burn has been completely blocked by the pebbles and... more

Fungi
A group of fungi so tightly packed together that the caps are distorted.

Driftwood
A very large tree stump that has been washed up on the shingle bank.

Dritfwood at Spey Bay
A large piece of driftwood beside the golf course at Spey Bay. It looks as if... more
All images © Anne Burgess and available under a Creative Commons licence

.