Geo-Trips :: Along the Sheffield & Tinsley Canal into Sheffield
Sheffield & Tinsley Canal
A walk from Meadowhall South / Tinsley tram stop, Tue, 3 Apr 2012 by Rudi Winter
We met at Meadowall South / Tinsley tram stop for a walk along the canal to its terminus at Sheffield Canal Basin on the edge of the city centre. The walk passes a flight of locks at the Tinsley end to take the canal up towards industrial Attercliffe. The canal then runs in a fairly deep trench, with the tram and several foot and road bridges crossing it at considerable height. Finally, the canal opens into Sheffield Canal Basin at the city end, where several original warehouses are still present, including the Straddle, built across the canal with five loading bays.
After the walk, we dispersed briefly to sort out our hotels and then met in the Fat Cat, Kelham Island Brewery's pub, for beer and pies.
Click the blue circles to see a photograph taken from that spot and read further information about the location. The blue lines indicate the direction of view. There is also a slideshow of this trip. ( )
↓ Scroll down here ↓

Tinsley locks on the Sheffield & Tinsley Canal
The second lock from the bottom (i.e. Tinsley) end of the canal stub into... more

Foundry in Greenland, Sheffield
Part of an industrial estate on the south side of the Sheffield & Tinsley... more

Tram bridge over the Sheffield & Tinsley Canal
The bridge carries the yellow tram route from the centre of Sheffield (to the... more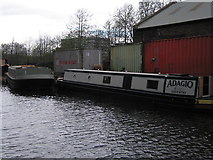 Canal boats on the Sheffield & Tinsley Canal
The canal widens as the terminus at the Sheffield end is reached. Some industrial... more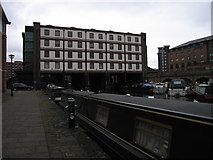 The Straddle, Sheffield Canal Basin
The Straddle is a former warehouse built across the terminus of the Sheffield... more
All images © Rudi Winter and available under a Creative Commons licence

.