Shared description
The Lead Shot Tower, Redcliff Hill
Until the late C18 lead shot was produced in moulds, however in 1782 William Watts, a Bristol plumber, was granted a patent for 'Making Small Shot Solid throughout, perfectly globular in Form, and without the Dimples, Scratches, and Imperfections which other other Shot thentofore manufactured usually had on their Surface'. His method was to pour molten lead through a perforated zinc plate sufficiently high to allow the globules created to solidify during their fall. They were caught at the bottom in a vat of cold water to prevent them being flattened upon impact. Shot is still made in this way (as are some other pelleted products such as Pearl Caustic Soda).
The story is that his idea came to him in a dream where he saw molten lead falling from the roof of St Mary Redcliffe! The local lead from Mendip was particularly suitable for shot manufacture because its high arsenic content made it hard.
To pursue his new business, Watts purchased a house on Redcliff Hill, built a 50ft castellated tower on top of it, and deepened the cellars to give a sufficiently long fall (c90ft) for the shot to form and solidify. Watts made a fortune from his invention (which he subsequentally lost in property development in Clifton) and sold the business. It passed through several hands until 1868 when it was bought by Sheldon, Bush & Patent Shot Co. who continued to operate in the tower, a well known landmark, until it was demolished in 1968. They then moved to a new tower on Cheese Lane, see
ST5972 : The newer shot tower
.
Demolition of the world's first shot tower was a major blow but in the 1950s & 1960s the City Council had little interest in saving evidence of Bristol's historic past and pursued its road development plans with enthusiasm.
Created: Fri, 8 Feb 2019, Updated: Sat, 11 Jun 2022
6 images use this description: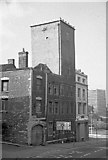 Shared descriptions
This shared description
The 'Shared Description' text on this page is © copyright 2019 Martin Tester.
Shared descriptions are specifically licensed so that contributors can reuse them on their own images, without restriction.
About shared descriptions
These Shared Descriptions are common to multiple images.
For example, you can create a generic description for an object shown in a photo, and reuse the description on all photos of the object. All descriptions are public and shared between contributors, i.e. you can reuse a description created by others, just as they can use yours.
Explore images
View images using this "The Lead Shot Tower, Redcliff Hill" Shared Description
View images mentioning the words [The Lead Shot Tower, Redcliff Hill] anywhere in text
Other shared descriptions
Related descriptions
The above selections are automatic and approximate, it might not always select closely matching descriptions